Welcome to the Year 3 eLearning Page! This is where we will upload your work for the week, along with any resources you need to complete it. Please complete your work in your home learning exercise book or on the internet if needed. After this week, it will be uploaded at 9am every Monday.
Remember that you can talk to us on the Purple / Lilac Class blog on Purple Mash - we will check this daily to see how you are getting on, and to answer your questions.
Next week, we will upload the answers for work set this week so you can check your work.
Hope you and your families are doing well!
Emma and Kim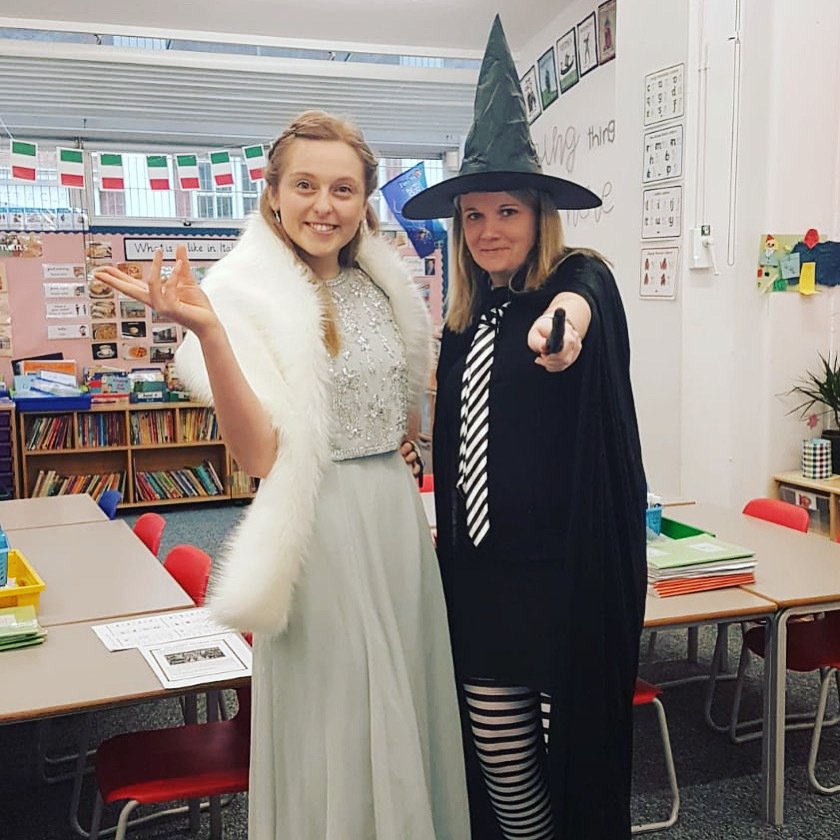 Answers from last week:
Grammar answers:
Even though I knew it was safe, I was still too scared to walk into the room alone.

(First Person)

You must hurry or we will miss the bus.

(Second Person)

Ridwan felt ill so he stayed at home.

(Third Person)

The girls danced their way excitedly from the classroom to the playground.

(Third Person)
This week's learning (30th March 2020)
ENGLISH
This week our focus is writing a poem about the wind. You will explore 3 poems by Christine Rossetti to identify how she has used prepositional phrases. You will create your own poem with a focus on using prepositional phrases to create an image in the readers mind.
Click below to open your task. There are 5 tasks to complete for this week.
Remember, you can present your work any way you like, using plain paper, your exercise book or the templates I have given you. Any questions, ask us on our class blog!
Click the activities below to open them:
Grammar - writing verbs in the past tense
With some verbs (regular verbs) you just need to add 'ed' on the end to change them into the past tense.

However, some verbs (irregular verbs) don't follow this rule! Take a look at the examples below.

Your Task:
Rewrite the following sentences in the past tense.
Example: It is sunny---------- it was sunny.
I

think

PE

is

fun.
My sister

looks

after me.
We

need

to tidy up the classroom.
I can

see

a bird in the tree.
I will

make

a cake.
I

take

the dog for a walk.
Extra Challenge!
Rewrite the text in the past tense. All answers will be posted next week!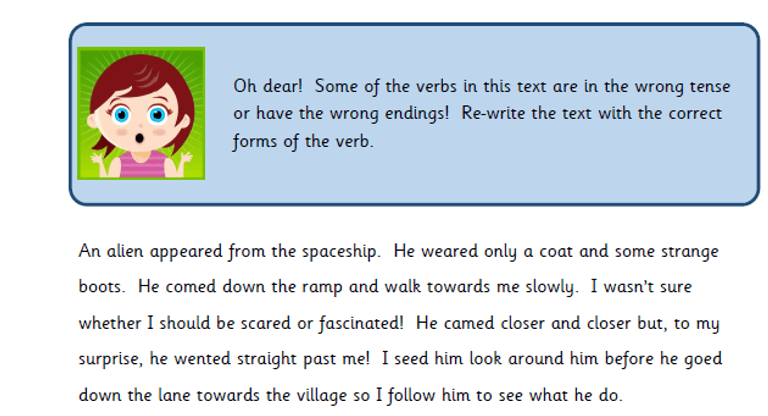 READING
Check your '2do' on purple mash. Continue reading chapter 3 and 4 and complete the quizzes and tasks.
MATHS
This week we are going to learn about perimeter. Watch the video below for some new learning!
Please practise your times tables on Times Tables Rock Stars (this can be accessed online or on the app https://play.ttrockstars.com/auth/school/student). Please also go on Mathletics, where we have set you specific tasks related to this week's activities (https://login.mathletics.com/).
If you have any questions, do contact us on the blogs.
We will upload the answers next week, so you can self assess your work.
TOPIC
This week, you are going to create a factfile about VOLCANOES! In Italy, there are 2 big volcanoes, Mount Vesuvius and Mount Etna. Here are pictures of them both.
1. Please read and watch the information on this website: https://www.bbc.co.uk/bitesize/topics/z849q6f/articles/zd9cxyc
There are two fun videos, and even a quiz to see if you can remember what you learned!
2. In your home learning journals, write down 20 facts you learnt about volcanoes.
3. Choose how you want to present your learning! You can:
a) Make a factfile on PurpleMash
b) Make a leaflet on PurpleMash
c) Create a leaflet using plain paper, and put it in your home learning journal.
HANDWRITING / SPELLING
This week we are recapping on suffixes (a letter or group of letters added to the end of a root word). Suffixes change the meaning of the word. We are focusing on: 'ing,' 'ful' and 'ly'.
Examples: walk ----- walking
calm ----- calmly
Reminders:
If the root word ends in 'e' and the suffix begins with a vowel (a,e,i,o,u) then the 'e' is taken off the root word before adding the suffix (eg if the root word is use then the 'e' is taken off to add the suffix 'ing' - using.)
If the suffix begins with a consonant (any other letter not a vowel) then the 'e' usually remains (eg if the root word is peace then the 'e' stays to add the suffix 'ful' - peaceful.)

Look at the following words. Can you add the suffix 'ing,' 'ful,' or 'ly' to these words?

live (this could become living or lively)
care
hope
arrive
like
rare
recycle
complete
Learn to spell the words with the appropriate suffixes and practice these words as part of your handwriting. Some words could have more than one suffix like the first example!
To help you remember how to spell the words why don't you try counting the syllables in each word and making up silly sentences!
FITNESS CHALLENGE
We highly recommend you check out Joe Wickes 9am workouts (although you can do them at any time in the day!) They are 30 minutes long and made just for kids. Find the link at the bottom of the page.
This week, you need to try and practise press ups every day!
What's your personal best? How good is your technique?
We would love to see pictures or videos of this on the blog if you are able!
FAMILY CHALLENGE
Learning with our families can be great fun! As Springtime is here, can you complete this Spring Challenge? Draw a picture of your final scene in your exercise books.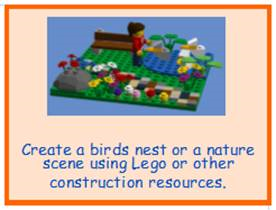 USEFUL WEBSITES
(The place to access any maths work set by us)
(A great game to practice multiplication and division)
(The place to access our class blog as well as any work we set you)
(The place to come and listen to a story!)
(The place to come for some mindfulness time, this is a great way to start your day!)
(The place to come for some great workouts. Remember it is important to keep your body and your mind healthy!)