Dear Green and Pink Class,
If you are reading this page, it is probably because you are at home self-isolating. This is very responsible as you are making sure that you keep yourself and the people around you as safe and healthy as possible.
It is important that your continue your education whilst at home and this page contains the learning that you should complete while you are self-isolating.
You hope that you stay well and we look forward to seeing you back at school soon.
From
Farzana and Robert
Phonics
Watch these two videos and listen to the phonics sounds. Then watch the videos again and see if you can join in! Practise your sounds every day.
Once you have listened to sounds taught in Phase 2 and Phase 3, ask a grown up to help you think of words with these sounds. How many words can you think of? Have a go at writing some words. Remember to say the word, robot the word, write the word.
English
Watch the video to listen to the story 'Traction Man is here' by Mini Grey and then complete the activities below.
Complete the following activities:
Draw and label a picture of Traction Man.
Who were the enemies? What did they do? Draw a picture of them and label or write a sentence about each of them.
Make your own missing poster for Traction Man.
Retell the story to a grown up.
Make your own puppets by drawing the characters and sticking them onto a lollypop stick.
What other adventure might Traction Man go on? Make up your own adventure for Traction Man and make a picture book about it.

Remember to use a capital letter, finger space and a full stop when writing a sentence.
Maths
We are learning to count on and back using a number line. Use the number line below and count in order backwards and forwards. Then cover up one of the numbers. Which one is missing?

Watch the video below to practise counting and writing numbers.
Reading
Remember to read a book every day either by yourself or with a grown up.
Don't forget to log in to bug club using your login details.
Below are the High Frequency Words which you will need to learn each week.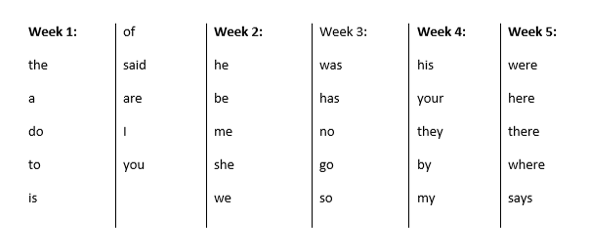 Topic
In school we are learning all about toys! Watch the video below to see how toys have changed over the years.
What do you notice about the toys? Which toy was your favourite? Pick your favourite toy and draw it. Why do you like it?

Now watch the following video and join in with the lesson.